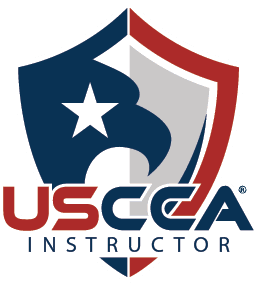 The United States Concealed Carry Association's (USCCA) Defensive Shooting Fundamentals (DSF) Certified Instructor Course was launched in 2018 through a collaboration with I.C.E. Training. You'll recognize the majority of this course from the Defensive Firearms Coach program. The new program includes eLearning for the instructors, eLearning for the end-users, and well-designed books that coincide with course material. The DSF program is reality-based and has evolved through empirical evidence from actual events and years of teaching.
Instructors who earn the certifications to teach the programs will be able to offer what we believe to be the best information available to their students, which will allow them to be better prepared to protect themselves or others they care about inside the home and public environment.
This certified instructor program currently includes two levels of certification.
Level 1 covers real-world defensive shooting fundamentals, the balance of speed and precision, stance and movement, high-compressed ready position, presentation from the holster, one-handed shooting, a home defense simulation, and several defensive shooting fundamental drills to help prepare your students.
Level 2 adds more concepts, deeper level information, adds to the context with skills like assessment, multiple-target engagement, and weak hand only shooting, adds a concealed carry simulation and additional drills to develop your students.
What you get with certification:
DSF Instructor eLearning
10 DSF Books
Instructor Range Shirt
Certified Instructor Hat
DSF Range Cards
DSF Notebook
50 DSF Targets
Range Trauma Kit
What to Bring to the course:
Handgun
400 rounds ammo for L1, 300 for L2
Ridged Holster
3+ Magazines
Hearing and Eye Protection
Open to:
General Public / Law Enforcement / Military / Private Security

Course Eligibility:
No Prerequisites
Cost: $497 for the live course and $250 paid directly to the USCCA for the instructor toolkit and eLearning.